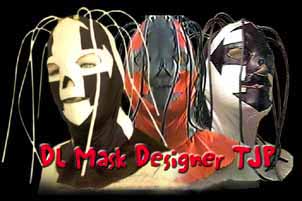 Hello Juggalos and Juggalettes! Clock my Ninja DL Graphics right here.
These Custom Made Dark Lotus Wrestling Masks are from the Original Dark Lotus Juggalo Ninja Mask Designer, Tuck John Porter a.k.a. #DesignerTJP (please find his Round logo on the back of any Concert Dark Lotus Mask like the one worn by #Blaze ). 100% percent Accurate to the Black Dark Lotus Wrestling Masks, with the White Cross, seen at the 2001 Hatchet Rizing Tour Concert. Each Mask is 240.00, plus 8.65 shipping in USA. Worldwide shipping is 23.00 U.S. Dollars. Canada Shipping is 16.00 U.S. Dollars. Please specify which color combination you'd like, when ordering (Black with White Cross, White with Black Cross, or Red with Black Cross). mmfcl
Sport Your Custom Prop Replica DL Mask at the next Juggalo Gathering!!
DL Mask_ $240.00 US Dollars Style Number_dl_mask_2k1
| for Buyers in the USA | for International Buyers | for Buyers in Canada |
| --- | --- | --- |
Please allow 4 to 5 work days, from a PayPal Hit to ship out the Wrestling Masks.
Designer notes the materials and color used in the construction of the DL Masks are subject to change without notice due to fabric availability downtown.

---
Hashtag Keyword Descriptions - Blaze, Psychopathic Records, Twiztid, Dark Lotus Mask, Wrestling Mask, Violent J, Insane Clown Posse, Hatchet Rizing Tour, 2001, Tuck John Porter, DL Mask, Hip Hop #Blaze Psychopathic Records, Twiztid, #DarkLotusMask , Wrestling Mask, Violent J, Insane Clown Posse, #HatchetRizingTour #2001 #TuckJohnPorter #DLMask #HipHop #Ninja #juggalo #juggalette #thejuggalogathering #WrestlingMasks
© 2001 to the Present
DL Designer TJP